The holiday is coming! The lovely Christmas is getting near. Everyone must be having a plan to spend time with their loved ones, family, friends, or lovers. In the meantime, a warm cup of coffee can't be missing. Coffee tastes so much better when you drink it with other people. So here we are sharing with you some amazing yet easy recipes for Christmas Coffee Drink Options. May your Christmas be warm and cozy with these drinks!
10. Homemade Chai Tea Latte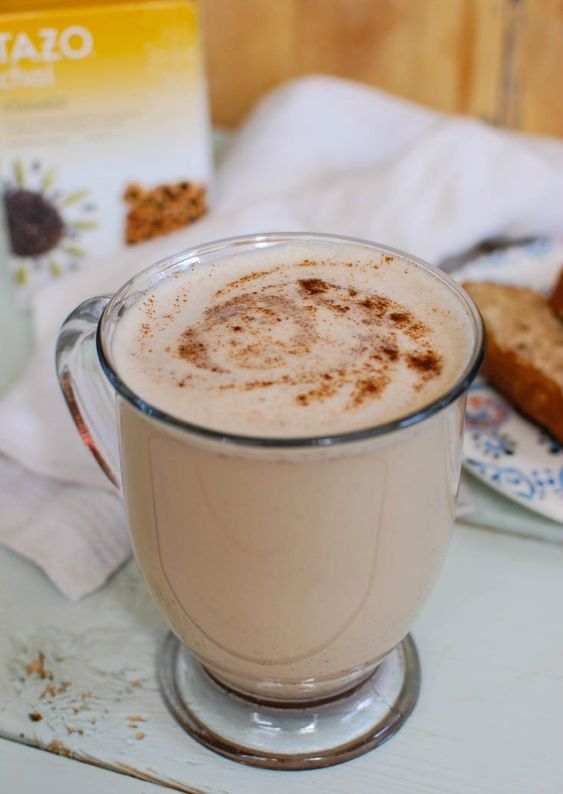 Exceptionally Simple Chai Tea Latte, this homemade chai latte is ridiculously easy to make at home. It's warming and just the right amount of sweet, and you love Chai tea, this is a perfect recipe for you.
Homemade Chai Tea Latte is the ideal easy fall drink recipe to make you feel comfortable and cozy. Chai tea is good, rich, warm flavors are made creamy and thick with your preferred milk, as well as cinnamon, cloves, ginger, and nutmeg.
To prepare a chai latte, make a fast chai concentration, and you'll need about ¼ cup of tea with sugar. Then, froth your milk, and pour the steamed milk over the chai concentrate. And that's it, enjoy!
9. Ginger Mocha Maca Latte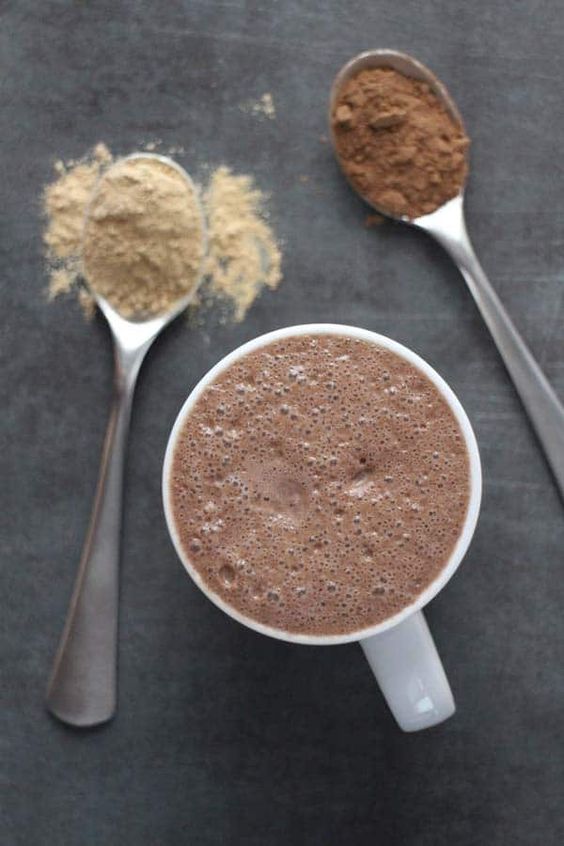 This ginger mocha maca latte is a little bit spicy yet also sweet. This will be your new favorite Christmas coffee drink. This is an extremely simple morning drink to make, and it doesn't require any special equipment. You can just simply blend your maca powder, cocoa powder, and crushed ginger with a cup of ordinary vegan milk in a blender. 
And you can transfer it into your mug and be ready to enjoy it. You can warm it in the microwave if you want it warm. You can also drink it cold by adding ice into the blender before you blend them together or put it into the refrigerator for about 30 minutes.
8. Honey Chamomile Tea Latte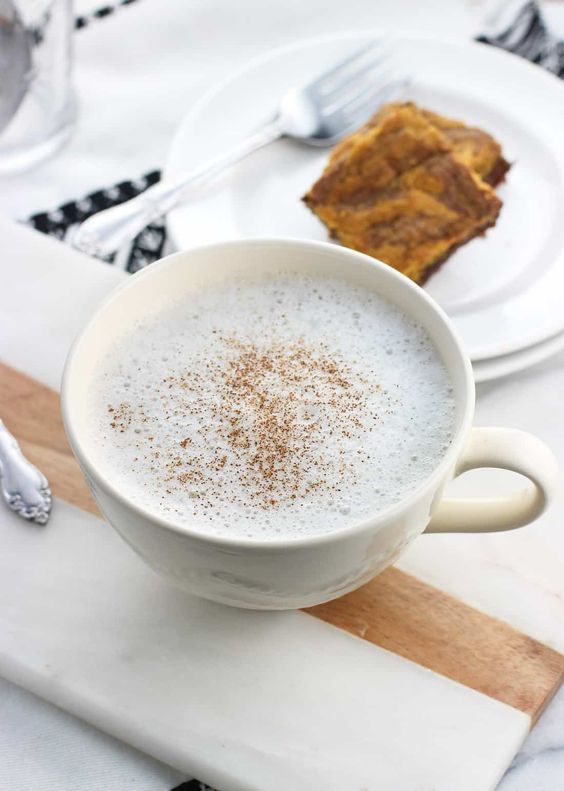 This simple honey chamomile tea latte is a warming, calming drink with just a hint of honey. This is much cheaper than buying in the coffee shop and you can even make it taste better according to your preference. 
First, you need to boil some water, then pour over the teabag and leave it for a while, about 6 minutes. Meanwhile, stir the milk and honey together. When the tea is ready, add some milk and honey, mix them well, and sprinkle some cinnamon on top. If you don't want it to be too sweet, you can reduce some honey. If you want it bitter, you can add another teabag.
7. Irish Coffee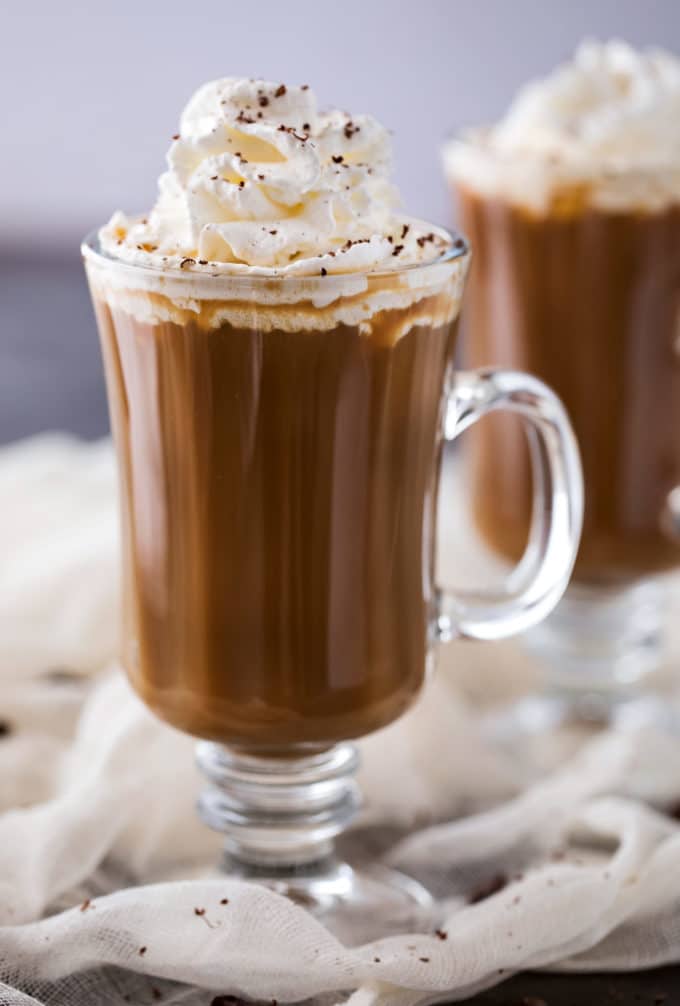 Have you ever tried Irish coffee? It can be a great holiday drink, or even an after-dinner drink, with a nice slightly bitter/caramel flavor, mixed with Irish whiskey, a bit of brown sugar, and whipping cream on the top.
Unlike other drinks, this recipe isn't as sweet. It has a slight sweetness, but not overly so, and it might catch people off guard if they aren't expecting it. Of course, according to your preference, if you want it sweeter, add some additional sugar. Extra topping is totally optional but it does taste better and looks even better.
6. Salted Caramel Latte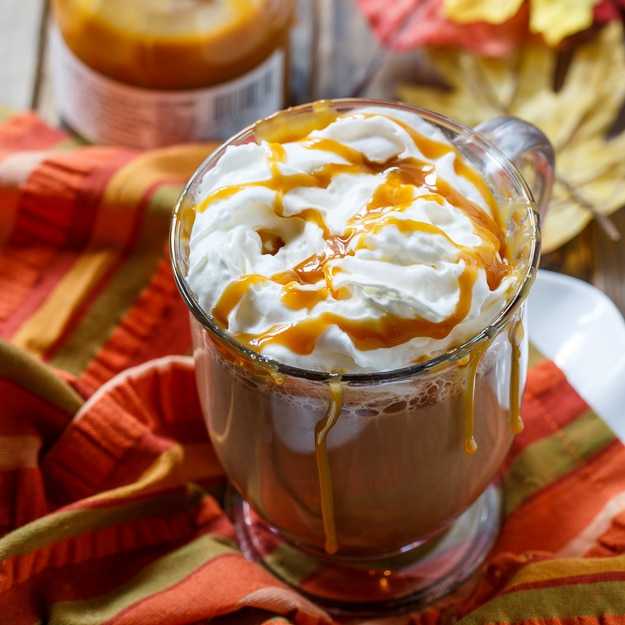 The Salted Caramel Latte is an exquisite drink for times you need a little more comfort or want to be treated. It's sweet with a tinge of saltiness. With some cocoa powder on the top, it tastes a bit chocolaty and smells even like one.
Mix some milk, cocoa powder, and caramel sauce in a small pan until everything dissolves well and heat it. Then add coffee and blend them until they turn frothy. Fill a tumbler halfway with whipped cream and additional caramel sauce. And there you go, your delicious Salted Caramel Latte as your Christmas coffee.
5. Apple Cider Latte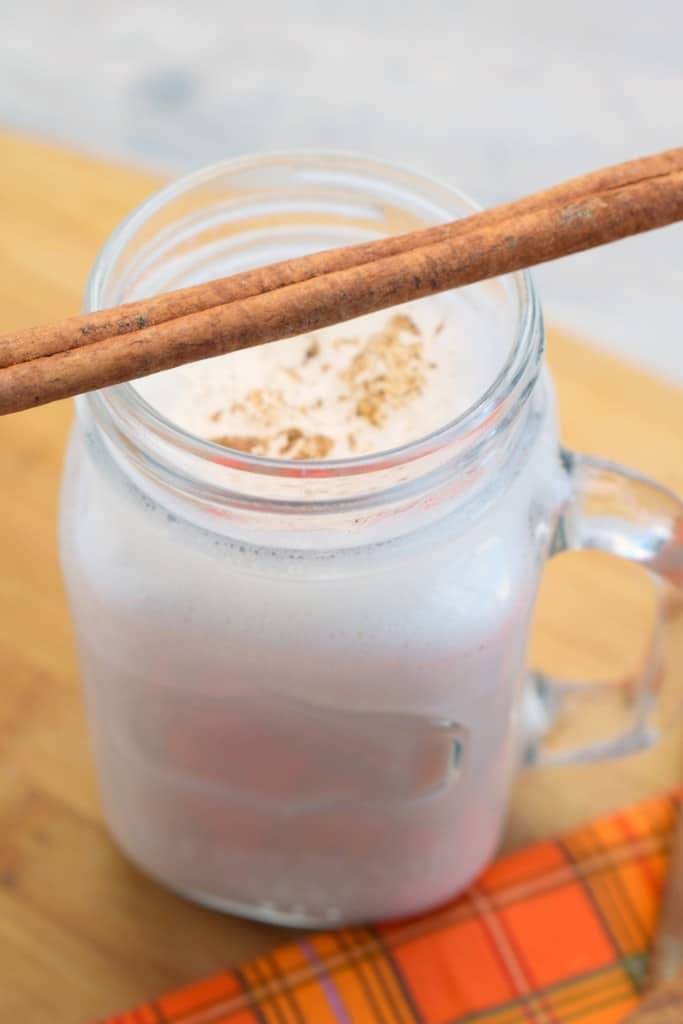 It's simple to prepare an Apple Cider Tea Latte! It is soothing and will keep you warm throughout the colder months. There's no need to spend a fortune on a nice latte. You can just get out of your room to prepare yourself this amazing drink.
You just need simple ingredients like water, milk, tea, and honey. Start by making some apple cider tea, then add milk and honey. Turn the pan to heat and continue to cook until the milk is well heated. If using a frother, froth the milk and pour it into the cups. If you like, season the final latte with cinnamon or nutmeg. Now, you can have some drink while watching TV!
4. ButterScotch Coffee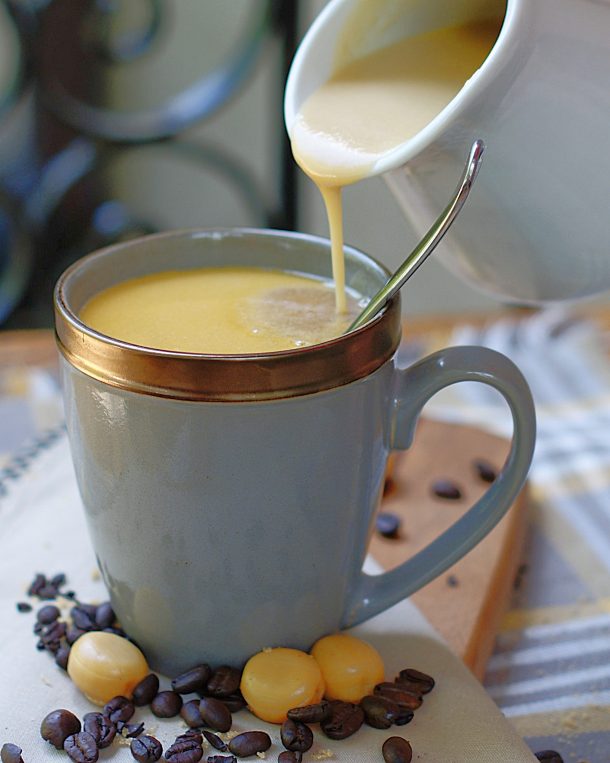 If you love coffee, making your favorite Christmas coffee drink whenever you want is the best thing ever! Whether it's morning or afternoon, a cup of coffee is needed for a coffee lover. Nothing is better than having your favorite coffee drink with your favorite coffee mug on a chilly day.
Warm half and half mix in the butter, sugar, and salt in a small pan over low heat. Stir continually until the butter and sugar are fully melted and the cream has acquired a pale caramel color. Remove from the heat just as it begins to thicken. Serve with vanilla extract. Just like that!
3. Eggnog Latte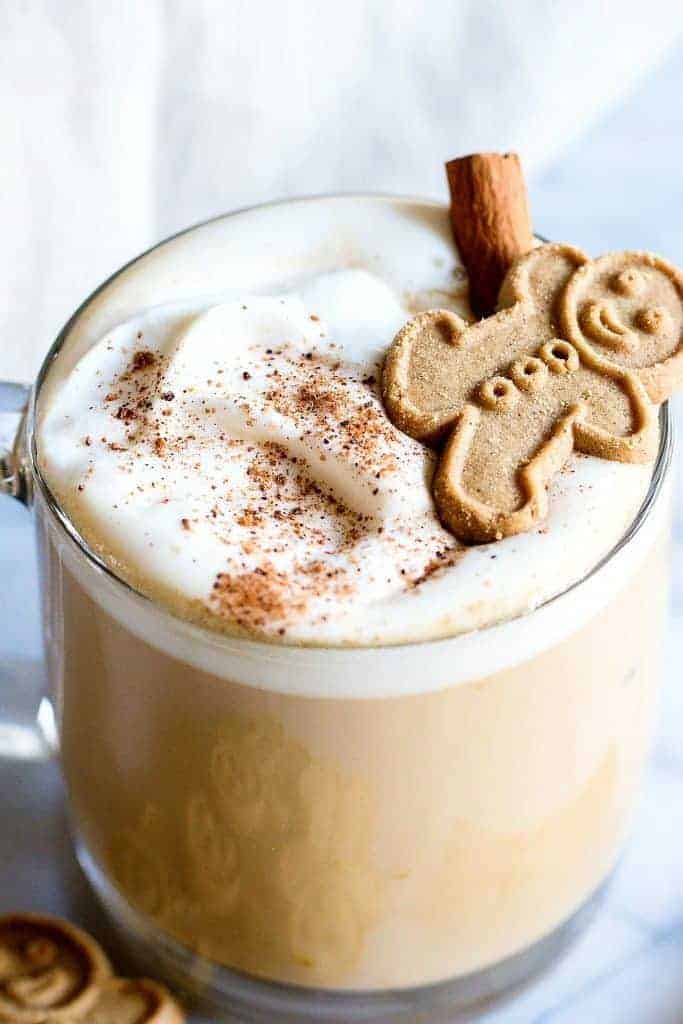 Latte with eggnog! Celebrate Christmas with this easy-to-make Eggnog latte. A quick and easy coffee drink made with actual eggnog instead of creamer.
This Eggnog Latte comes together quickly and easily. It's just coffee, eggnog, a little brown sugar to sweeten, and a dash of nutmeg. Plus some whipped cream if you're feeling very daring. All you need is coffee, brown sugar, eggnog, whipped cream, and sprinkled nutmeg. Don't forget to decorate your drink with some cookies and cinnamon rolls to make it look even fancier.
2. Frangelico Espresso Martini Cocktail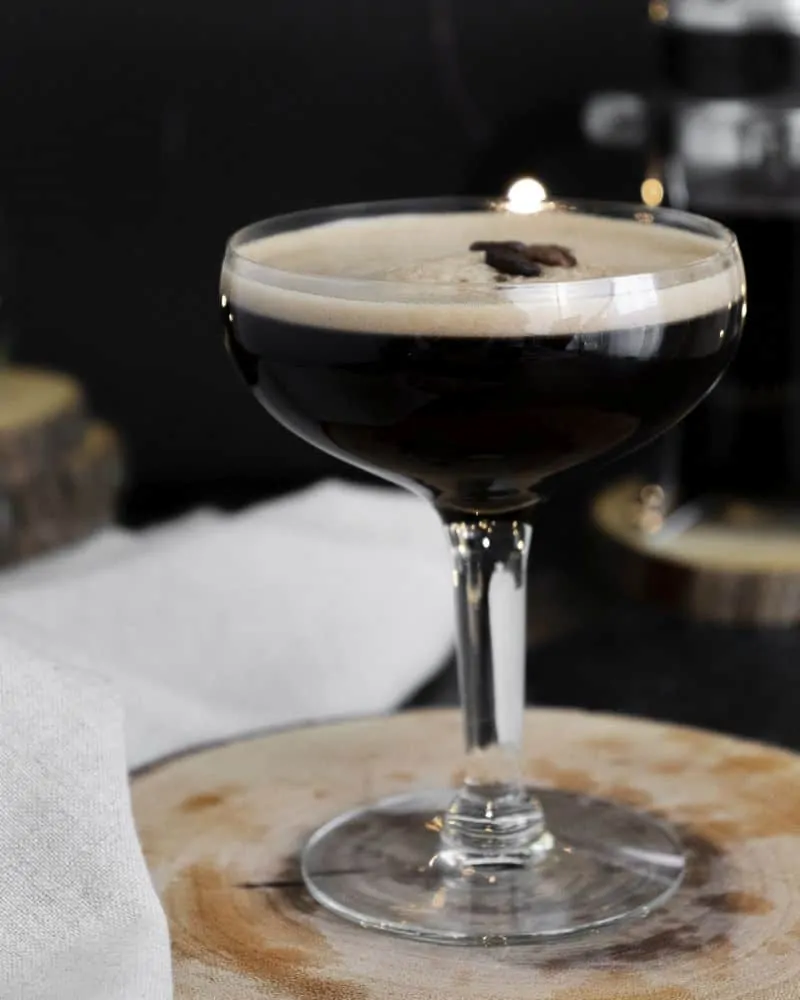 This wonderful Frangelico espresso martini drink recipe will wow your guests. It is a delicious coffee drink that you can simply create at home. It is a new spin on a classic espresso martini recipe.
Tips: If you're using brewed coffee, make it considerably stronger than you would normally drink. You won't get the crema on top of the cocktail naturally if you don't use espresso, but read my note on egg white in the ingredients below for an alternative. Cheers to your friends on holiday!
1. Peppermint Mocha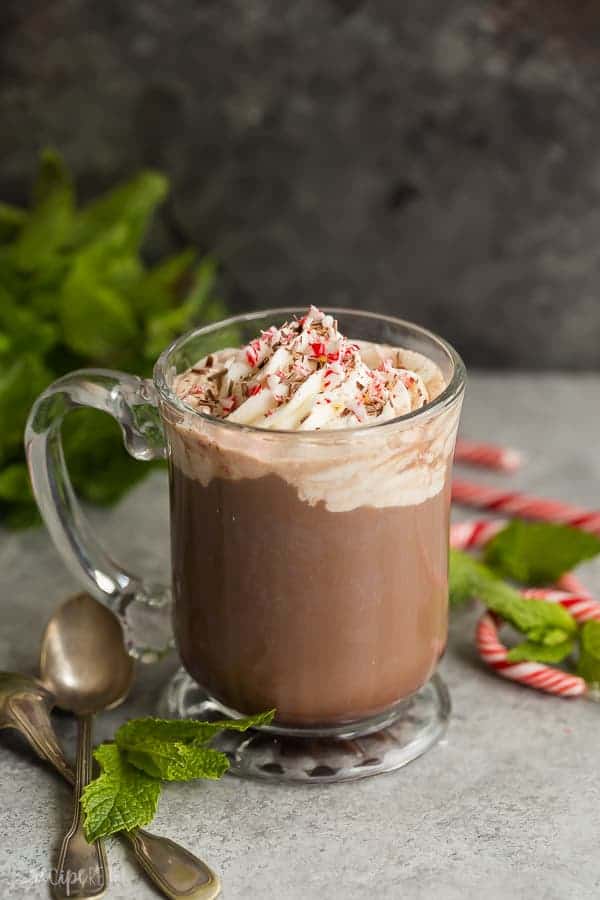 Any mint lover here? It's your time to shine! Peppermint mocha is a tasty mixture of coffee and chocolate with peppermint or white chocolate. This is a delicious and fantastic Christmas coffee to enjoy the winter holidays.
For people who aren't coffee connoisseurs, a basic mocha may be made by blending boiling water, hot chocolate mix, and some instant coffee or instant espresso granules. Alternatively, in this recipe, replace the cocoa and sugar with a hot chocolate mix.