A cup of coffee in the morning lights up your day, but what makes its taste more extraordinary is the herbs and spices that create another unique flavor to the coffee. If you are a real fan of coffee who craves to explore new experiences, you will need some spices and herbs to add more textures. Herbs and spices are not just for decoration and additional flavor; they grow up with the ingredients that provide many benefits to your physical and mental health. The textured coffee you might look for is classified into 2 types: depth and warmth, and another one are sweet tones and texture. Yet, there are 8 herbs and spices to add to the coffee you should know.
Depth and Warmth
Below are the 4 spices that make coffee flavor more depth and calm – Rosemary, Cardamom, Nutmeg, and Turmeric. Are they vital to coffee drinkers? How beneficial are they?
Rosemary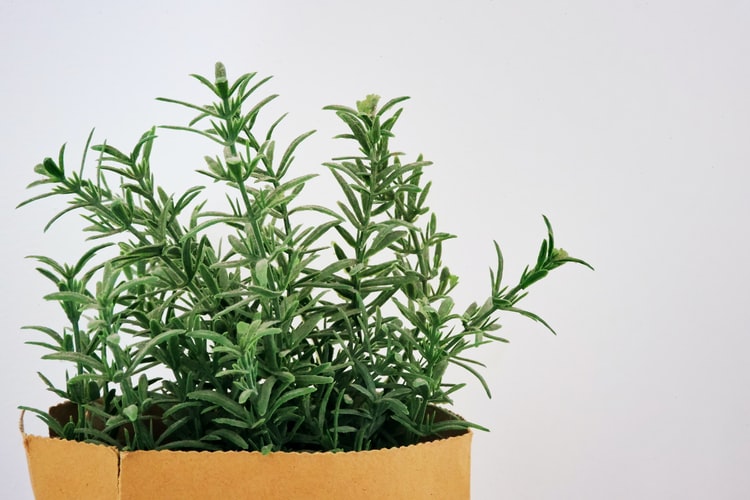 Rosemary brings you a fresh, gentle, and memorable taste of coffee. It is full of antioxidants, caffeic acid and rosmarinic acid, and other nutritious properties. It creates an intense flavor in the coffee; the heat runs over rosemary leaves, and rosemary oil plays its role in the coffee taste. Rosemary is an easy spice to add to coffee as you only need to dry its leaves. To make a rosemary coffee, you need to follow 2 easy steps. Firstly, you put fresh rosemary leaves in the coffee cup on the origin coffee ground; Indonesia coffee beans are popular. Then, let the coffee maker produce the rosemary coffee for you. Best served with hot coffee!
Cardamom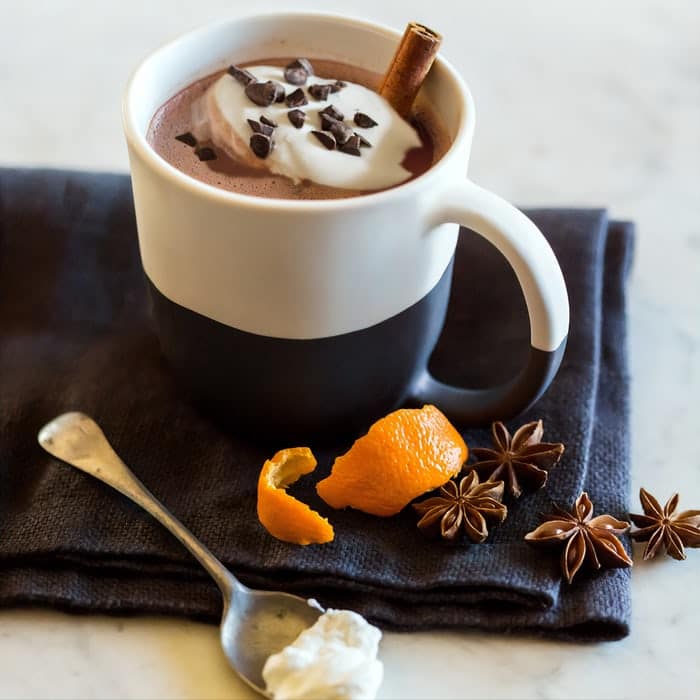 Cardamom looks beautiful and a good texture to the coffee flavor. Every drop of coffee with cardamom spice makes you feel warm, gentle, and blue. It works very well with the origin coffee ground. The most popular countries that grow Cardamom include – Turkey, Bahrain, Pakistan, Israel, and India. It fits well with the milky Cardamom iced coffee making its taste much better. The coffee is a creamier, deep, and floral aroma. This spice helps to reduce stomach issues due to the nutrition inside it – iron, fiber, and potassium.
Nutmeg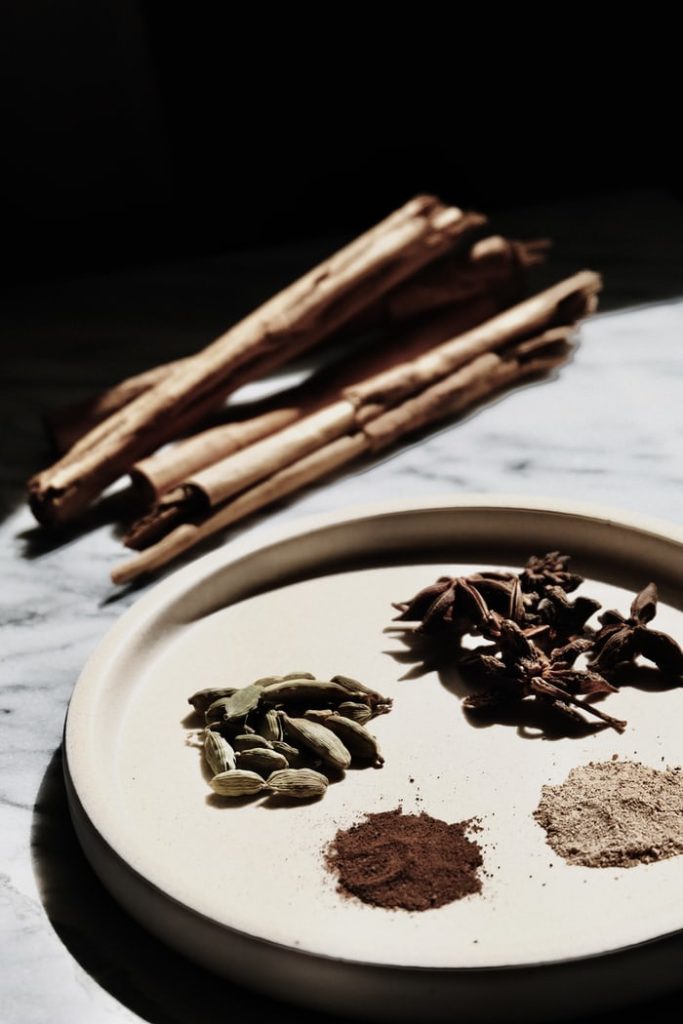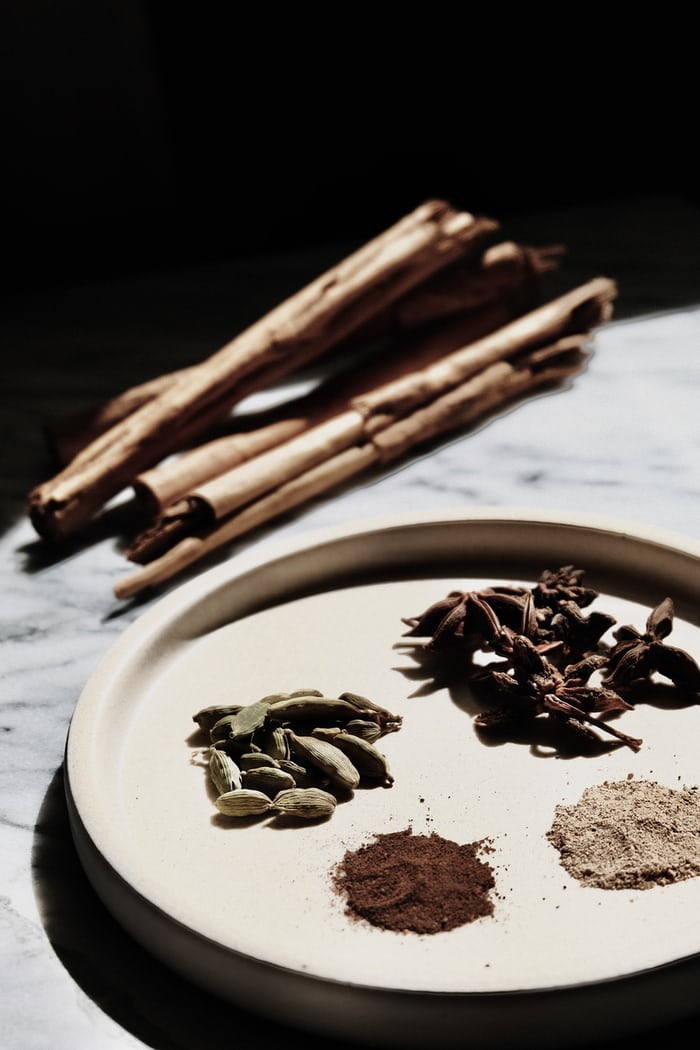 Nutmeg is a spice to better your skin besides an exotic experience with the coffee flavor; this is possible. It cures toxicity because of an anti-inflammatory; say no to insomnia, digestions, and alleviating depression. When nutmegs spread their beauty into the coffee, the taste becomes sweet, fresh, powerful, and gentle. The overpower lighter and more delicate brews come together with the origin coffee ground. Now, you can enjoy the valuable and flavorful spice – nutmeg in your coffee. Be ready to drink it!
Turmeric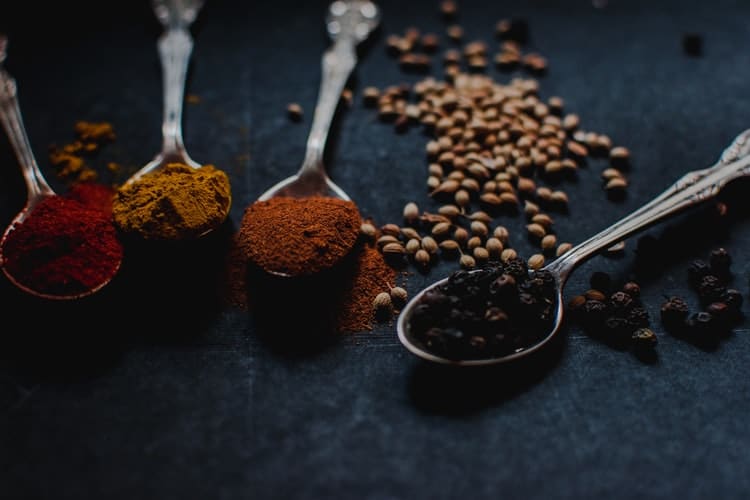 Does turmericc with coffee? Yes, it is, and it is so popular, dear coffee fans! You probably only hear this when your sister, mother, or peers tell you that Turmeric is one of the best remedies for beauty as it helps to brighten skin and avoid acne. However, this is so interesting that you are reading this; you can now add Turmeric as an extra texture to the coffee to calm down your stress. Yet, it is not different from nutmeg as it consists of an anti-inflammatory that reduces the plain alleviation properties, fewer digestions, and liver function.
The best coffee partner with Turmeric would be Sumatran. As you may know, the turmeric color is yellow; therefore, it makes the color of coffee become a little colorful. You do not have to be concerned that the turmeric taste might be too strong or bitter since the turmeric spice added to the coffee is mild.
Sweet Tones and Texture
How ready are you to grab a delicious coffee? These are the other 4 spices that create sweet tones and textures to your coffee – Cinnamon, Ginger, Cocoa powder, and Star anise. But, more than just the spices, you can enjoy the taste peacefully.
Cinnamon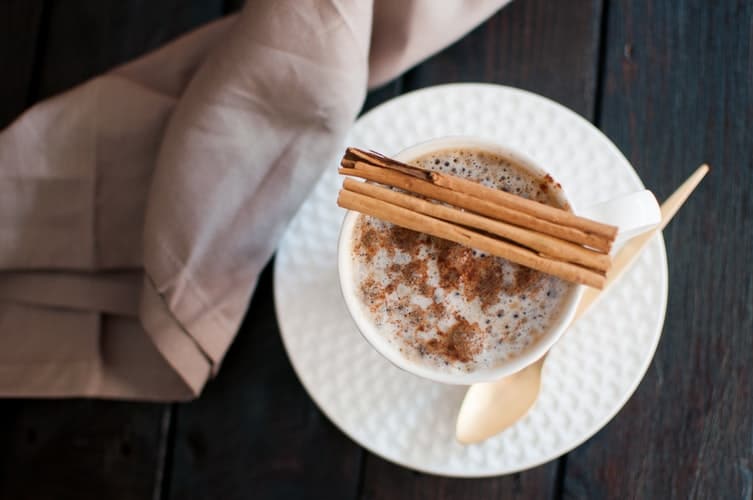 Cinnamon is suitable for your health, not only skin and inside your body. It helps your brain function better, especially when you drink the coffee in the morning containing Cinnamon. With Cinnamon, you are less worried about diet if you use it at the right amount before brewing it with coffee grounds. Likewise, this also increases your antioxidants. Adding this spice, you might get the sweetness greatly, and it fits all coffees.
However, it protects you from high blood sugar despite the sweetness it provides as it reduces the calories and improves the body's insulin to be more productive. Drinking coffee boosts your energy to one level, but Cinnamon extraordinarily brings you to another level so that you can concentrate on your work nicely. The vitamins and nutrients in Cinnamon include fiber, manganese, calcium, iron, and vitamin k, which cure other illnesses of the heart, sore throat, and many more. Wow! Such beneficial spices are so good and healthy with origin coffee beans and is suitable to your health.
Ginger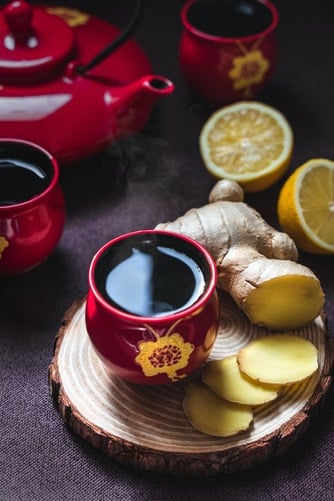 Ginger is a traditional remedy that cures the cold and fever; this is the belief that your ancestors or family is familiar with it. You put pieces of Ginger into the water and boil it before drinking it. Then, you figured out you breathe in and out easier and fresher than usual with this drink. However, Ginger plays the role effectively in the coffee because the flavor becomes spicy and tasty. In addition, Ginger contains vitamins c, which calms down your soul relaxingly – best to do in the morning. More than just vitamins, its anti-inflammatory helps cut down cholesterol as well to improve digestion.
Coffee that is the best fit for Ginger is the roasted coffee that has an impressive sweetness – Salvadoran. Even though it is tasty, you may need to take a little time to peel Ginger, but the tips for this are making the oversized piece into small pieces that you are convenient to peel. After that, you can start peeling it side by side with the knife or the tablespoon. Be careful to choose the suitable Ginger; otherwise, its flavor might be too strong for your coffee.
Cocoa Powder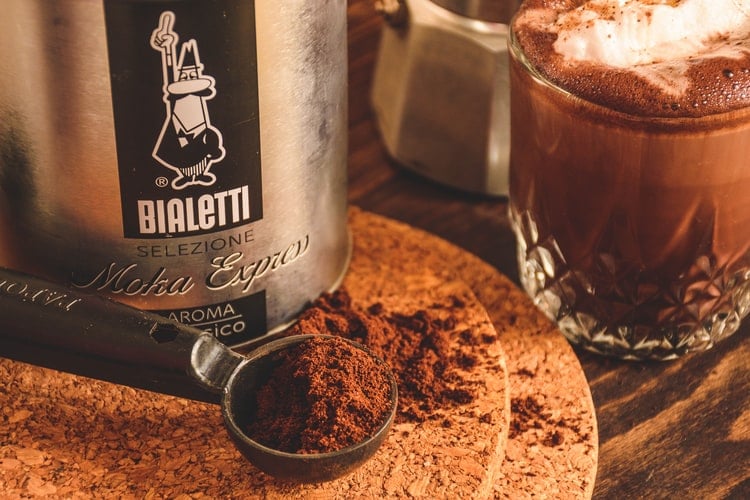 Cocoa powder is a spice that you can add to many foods, not only a drink like coffee. Typically, cookies and brownies also need cocoa powder. The word "cocoa" sounds bitter, but it is not if you use unsweetened cocoa powder. Instead, it somehow looks like milo, chocolate powder, and so on. In contrast, cocoa powder makes coffee flavor sweeter and deeper. Healthily, you are less worried about your health since it helps you to reduce cholesterol, lower blood pressure, and improve blood flow inside your body.
Star Anise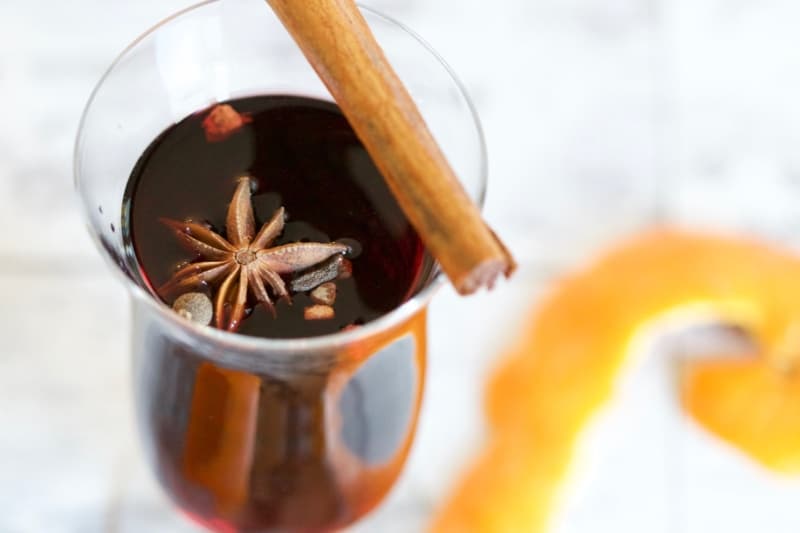 Adding Star Anise into the coffee is the best choice because it is a spice that creates emotions in you – love, aroma, memory, and romance through its silky flavor. In addition, there are many nutritional properties inside star anise, making it more valuable and helpful to coffee drinkers. If you have sore throat issues, flu, digestion, and other more, star anise is ready to support you. The best season to drink coffee with star anise shall be winter. Imagine you are in the winter season right now, sitting at the window of the coffee shop and carrying a cup of hot coffee with star anise flavor inside. Would you be able to forget this moment? An excellent way to use this is to combine it with the coffee ground before putting the coffee cup in the coffee maker.
Final Thought
Now, you know that a cup of coffee in the morning becomes an extreme coffee when you happen to choose any of the 8 herbs and spices that push your energy, productivity, feelings and cures your illnesses. I know a coffee drinker like us can't stand going through a day without a coffee. Yet, our ideal pick-me-up in the morning coffee grounds combined with the best flavor of herbs or spices into the coffee are not the same. Likewise, adding these ingredients does not guarantee that it fits your taste buds as the way we handle the bitterness, sweetness, hot, and cold are various. Still, exploring all of them to know which one you adore the most. So, what else are you looking for in the herbs and spices that are suitable for coffee and increase metabolism? Let us grab some and taste right now!
References: